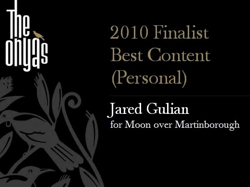 I was sitting in an internet cafe at Bondi beach in Sydney. Just outside the waves curled blue into the sand. Surfers had left their boards leaning on the railings of sunny outdoor cafes to have breakfast. But I was in a dimly lit room full of computers, trying to find out if I had won an award back in New Zealand.
You may have read my post back in December 2009 when I excitedly announced this blog is a finalist in the ONYA awards for the "Best Content (Personal)" category. The ONYAs celebrate the New Zealand web industry.
When it hit me that I was going to be in Sydney with CJ and Aunt Charlie the night of the big ONYA awards ceremony, CJ and I considered changing our plans. But Aunt Charlie's ticket was part of her return to the States, and it all just got too complicated.
Nope. I was going to miss the ceremony.
Checking the web
So there I was, trying to find out if I won. First I checked the ONYA website, but it was too soon after the ceremony. There was no update on winners yet.
Then I checked the blogs of the other finalists in my category, to see if they'd announced they'd won – Alison Green's The Gathering archives, and Zef Fugaz's Zefamedia. They're both great sites. But neither blog said a thing.
Hmm…
I persisted. Zef is on Twitter, and it was there I read the 'tweet' where he said, "OMG I just won an ONYA!"
Zef's been blogging since the Dawn of Time, and he deserves to win.
I met Alison and Zef for the first time over coffee yesterday, and they're both really nice, passionate people. I'm happy to have made some new connections to good people. Of course Alison and I teased Zef about winning! But we congratulated him too.
The video
Before the awards ceremony, a guy named James from the ONYAs interviewed me over skype to make a 40 second video on 'Moon over Martinborough.' The night of the ceremony they showed a video about each website to announce the finalists.
I think I sound a little intense and not very friendly in the video, but maybe that's just me. I also cringed when I heard myself say, "Me!" But oh well!
Check out the video below. What do you think?
Related posts