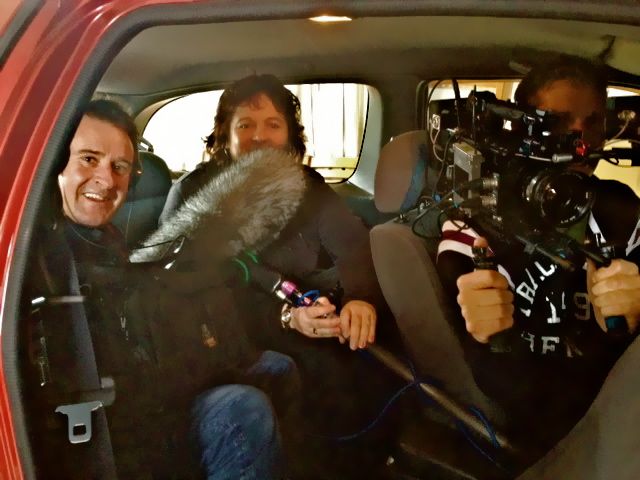 The TV crew was about to show up, and I was nervous. It's an act of trust to put yourself in front of a camera. I didn't know these people. What if they made me look like a fool?
Several weeks before, Melanie Rakena, Producer at Jam TV, saw my book, Moon Over Martinborough, in a Grey Lynn bookstore and immediately called her researcher, Lisa. "I want to interview this bloke Jared Gulian," Melanie said.
Lisa called me that day and explained the project. Jam TV was making a new series called This Town. It featured people in small towns and rural areas all over New Zealand, and they were doing an episode on the South Wairarapa. Would I be willing to be interviewed?
When I said yes, I didn't entirely realize what I was getting myself into. As it turns out, not only were they going to interview me, but they were also going to follow me around all day and film me doing things.
The crew arrives
When the crunch of gravel on the driveway announced the TV crew's arrival, I took a deep breath and went outside.
A big van pulled up to the edge of our flowerbeds, and out stepped four of the nicest people I have ever met. Along with Melanie there was Jake the cameraman, Andy the sound guy, and Megan the production assistant. They immediately put me at ease as we chatted about the property, the olive grove, the chooks, and the pigs.
They also told me about other people they were interviewing in the region – Leanne and Greg, the local artists and pig lovers who appear in my book as Leelee and the Wolf; Vicki, a retired NZSO musician who runs the local choir; May, a vicar with a vineyard; Joanne, a woman who runs a donkey sanctuary; Mary, a woman in her 80's who has painted her own coffin; and a few others.
A day with Jam TV
The next 10 hours was a total blur. Yes, 10 hours. The TV crew was with me from 9am until 7pm that night.
Thank goodness that Sean of The Goodness of Food Café in Carterton provided gluten-free goodies for morning and afternoon tea, so I didn't have to think about it. If I remember correctly, I threw together a big salad for lunch, but God only knows what was in it. It could have been old tea towels for all I know.
I remember making my carrot cake, which I took to friends at Big Sky Wines for a dinner party that evening, followed by the cameras of course. And I remember that the neighbors showed up for morning tea.
At one point the entire TV crew piled into our trusty Nissan Pulsar and interviewed me while I drove into the village. They wanted me to drive the tractor around, but I couldn't get it started. They also wanted me to chainsaw something, but our chainsaw fills me with a kind of deep and indescribable terror. Basically I failed at doing farm chores entirely.
As it turns out, I didn't have to worry at all about Jam TV making me look like a fool. I did a perfectly good job of doing that all by myself.
During the interview I got teary-eyed talking about the death of Old Lady Lucy. She was our first pet kunekune pig. I wrote about her death in my book, and talking about her brought it all back.
So basically, when this particular episode of This Town airs on national television, not only will I look like a failed farmer, I'll look like a failed farmer who cries over dead pigs. I'll probably be run out of town.
And where, you might ask, was CJ during all this tomfoolery? As is often the case when cameras are present, he was conspicuous by his absence. In fact, he's become so good at avoiding the media that some people are beginning to think I've made him up.
To see if I truly did end up looking like a blubbering and incompetent agriculturalist, check out This Town on TV One at 7:30pm on Saturday, 23 November – New Zealand time. If you miss it, and if you live in NZ, you can watch it for a little while afterwards over on TV One On Demand. It's episode 8.
And do please let me know the verdict in the comments below. Do you think I'll be run out of town?
Note: If you're in New Zealand, you can watch the Wairarapa episode for free on the internet here: This Town, Series 1, Episode 8, TVNZ On Demand
Related links