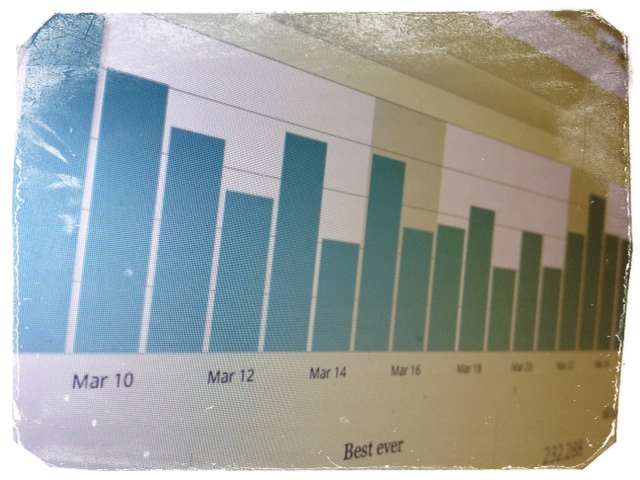 Last week I spoke to some creative writing students about how authors can use social media to promote their work. Eventually one student asked me the inevitable question, "How many people read your blog?"
I get asked this a lot, and I understand why. Author website traffic is one of those supposedly secret things many aspiring writers are dying to hear about.
There was a time when I could have rattled off my average daily page views as quickly as my name. But not lately. So I told the students that I'd send them my web stats.
Later I thought, "Why limit this? Other writers and bloggers might be curious too. What the heck? I'll tell everyone my web stats."
It's not that I think my website statistics are particularly fascinating. But since my blog led to a book deal with Random House New Zealand, and since that book landed on the NZ Bestseller list for 6 weeks, people seem interested.
Information is power and sharing openly makes us all stronger. So here we go. I started my blog five years ago this month, so I'm releasing five years of web stats in one fell swoop.
The actual numbers are at the end of this post. But before you jump into that detail, here are the 4 specific lessons on author blogging that I found buried in all that data.
Lesson #1: Slow and steady wins the race.
Inside the web traffic numbers you'll see someone slogging away for 4 years before finally managing to get a book out of all that hard work. You'll see a little-known blog that went from 12 page views in the first month to an all-time high of 15,858 page views the month after the book came out. That's an increase of 132,050%.
What does this mean? It means that if you continue to produce good content on a regular basis, sooner or later people will notice.
There were quite a few times when I wanted to throw my hands in the air, delete my good-for-nothing-waste-of-time-blog, and give up writing forever. In fact, I almost did. Thankfully, friends and family stopped me. (See my post 'Never give up: blog to book' for the scoop on that.)
Lesson #2: Traffic isn't the only thing that matters.
I had more traffic in 2010 than in 2011. Views fell from 40,317 in 2010 to 38,309 in 2011. That's a decrease of 2,008 views! Gack! Surely that's a sign of failure, right?
Well, no.
During 2010 I started blogging less. And I did it for a reason. I began publishing posts only once a month instead of once a week because I needed to carve out more time for working on the book. As a result of publishing fewer posts, my traffic dropped.
Sometimes you have to blog less in order to write more.
So that falling traffic, for me, was a sign of success. I was making a careful choice about how I used my time, falling traffic be damned. It helped me achieve my long-term goals.
The same traffic drop is happening lately, because I've been spending time writing fiction instead of blogging.
The bottom line is that you can't let your web stats stress you out. If you want to take a break or focus on some other important goal, then make the decision, understand the implications, and don't worry about those pesky plummeting numbers.
Lesson #3: Get outside your garden walls to promote your blog.
When you look at the chart illustrating the stats below, you'll see three clear peaks. Each peak gets a little bigger:
July 2011 (green line)
November 2012 (purple line)
July 2013 (bright blue line – big jump!)
All three of those traffic peaks were the result of forces outside the garden wall of my little website.
In July 2011, Amelia Nurse interviewed me for Radio New Zealand's Country Life. See this post: Windy Day on the Radio New Zealand. Traffic rose.
In November 2012, I was interviewed the WordPress.com blog. See this post: 'Moon' featured on WordPress.com. Again, traffic rose.
July 2013 was the month after my book came out. Thanks to my amazing publicist at Random House, I had more media attention than you could shake a stick at. In addition to heaps of newspaper and magazine coverage, that month TVNZ's Breakfast came to interview me and Tilly Lloyd reviewed my book on Newstalk ZB. All of that media attention led people to visit my blog.
While having a professional publicist in your corner is a major help, the "get outside your garden walls" principle holds true even if you're flying solo. Do some guest blogging somewhere else. Do a public access radio interview. Volunteer to write an article for a local newspaper. Anything. Just make sure you mention your website address.
Lesson #4: You don't need a gazillion page views a month to land a publishing contract.
There are personal bloggers out there who rake in more than 10,000 views a day. That's not me. In my weaker moments, I still fear that some people will see my web stats and think, "That's nothing!" But in the end I have to let that fear go. Web traffic is like money. There's always somebody with more.
Of course, it's also true that there's almost always somebody with less. We need to be grateful for what we have.
My numbers teach us something very practical: You don't need to be a high-flying personal blogger with a gazillion page views a day to get noticed by a major publisher. You just need a solid presence and good content. And if I can do it, you can too.
So remember those 4 lessons on author blogging:
Slow and steady wins the race.
Traffic isn't the only thing that matters.
Get outside your garden walls to promote your blog.
You don't need a gazillion page views a month to land a publishing contract.
Big thanks to Johanna Knox for inviting me to speak to her students in Whitireia's 'Creative Enterprise' course. And big thanks to those students for inspiring me!
The numbers
If you just want a quick overview, here's a graph from Excel. (Click to enlarge. Explanation below.)
The numbers up the left-hand side of the graph are views. (A 'view' is counted in WordPress.com when a visitor loads or reloads a page.) Each colored line is a different year. Generally, the earlier years are lower on the graph than the later years, indicating an increase in traffic over time.
The hardcore numbers are in the Excel spreadsheet below. Study to your heart's content. If you're a data enthusiast, feel free to mix and mash as you see fit, with acknowledgement please. And let me know what you think in the comments.
Jared Gulian's web stats: 2009 to 2014 (Excel spreadsheet)
Notes:
Source: These web stats come from the basic 'site stats' tool available for free through WordPress.com.
URL: In October 2013 I changed the primary URL of this website from moonovermartinborough.com to jaredgulian.com, but it's effectively the same website.
Unpublished content: When Random House NZ released my book in June 2013, I unpublished 60 old blog posts that I'd modified and put into the book. So after June 2013, this website had a lot less content. That usually means less traffic. I unpublished some content again in October 2013, when I changed the URL to jaredgulian.com.