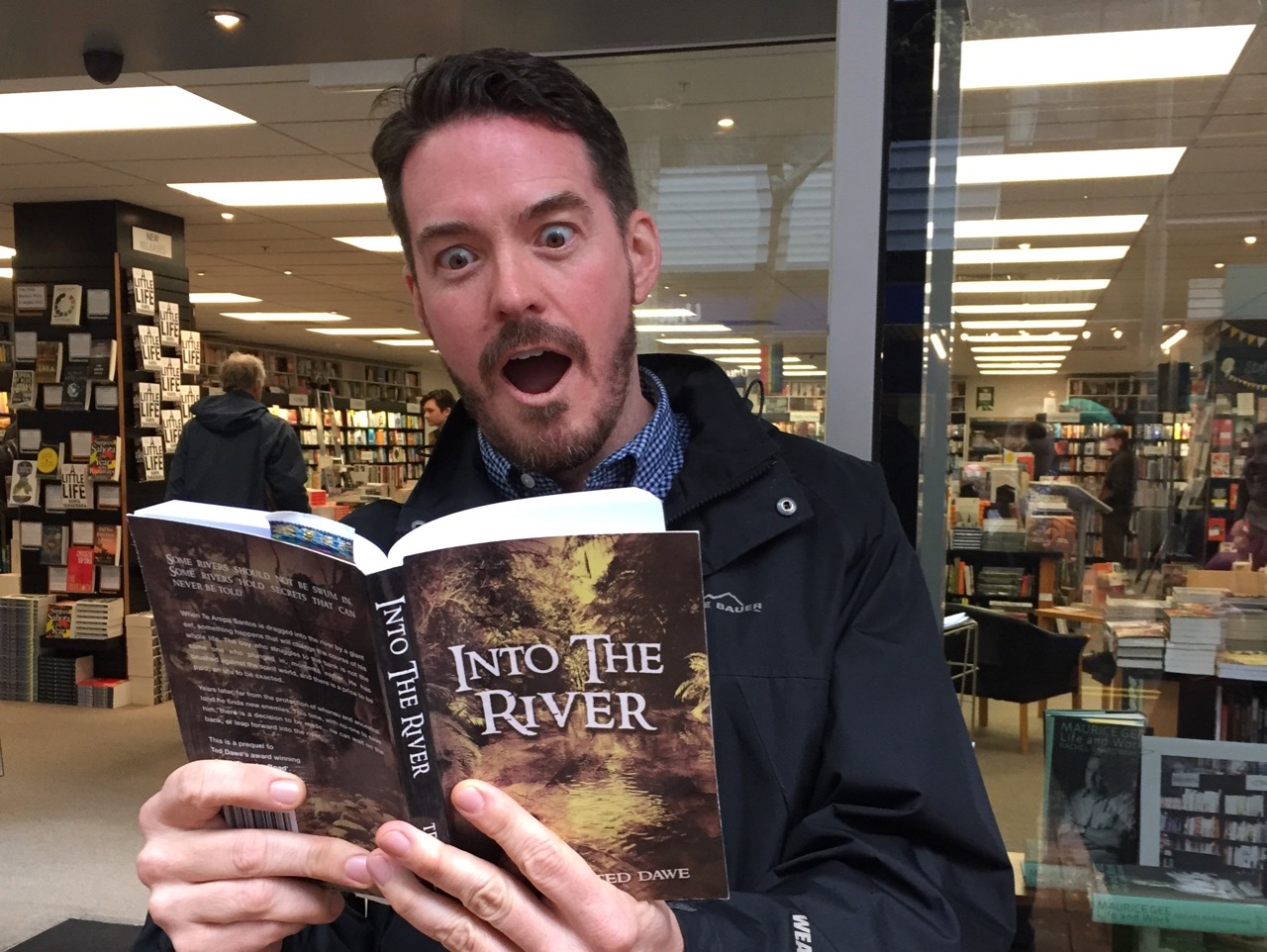 This photograph shows me doing something illegal. It seems innocent enough. There I am, a mild-mannered, middle-aged white guy, reading a book on the streets of Wellington, pretending to be shocked. But let there be no mistake. It was an unlawful act.
Specifically, the illegal act reflected in that photograph is that someone shared their copy of a banned book with me. Yes, it's true. They shared a book with me, and I read it.
This clearly represents a total breakdown in society. Today, people are passing around books. Tomorrow, they'll be rampaging through the streets in criminal gangs, hurling library books like Molotov cocktails. Hide your children. Lock your doors. Draw the curtains. The dangerous, book-wielding maniacs are on the loose.
The book ban in New Zealand
Right now it is illegal for anyone in New Zealand to lend, distribute or exhibit Ted Dawe's book 'Into the River.' Yes, welcome to this tiny South Pacific paradise. You thought we were a modern, Western nation? Guess again. We're clearly a bunch of book banning yahoos.
If the ban on 'Into the River' is breached, individuals face a fine of NZ$3,000 and companies of NZ$10,000. I have been told that even allowing someone to read the book over your shoulder could lead to a fine of NZ$1,000.
For context, and to show that New Zealand got class, I should point out that before 'Into the River' was banned it was awarded the Margaret Mahy Book of the Year prize and also won the top prize in the Young Adult Fiction category at the 2013 New Zealand Post Children's Book Awards.
The book is a coming-of-age story set in New Zealand and it's intended for a young adult audience. It's got some drugs, sex, and swear words in it. (I haven't read it myself yet. I can't get a copy of my own because, well, it's banned.) The book is noted especially for appealing to young Maori and Pasifika boys.
So what do we do in this island nation when there's an award-winning, local book that boys like to read? Well, we ban it of course. Boys read enough already.
Besides, we don't need novels that speak to boys and reflect their lives. There's plenty of stuff for them to read on the internet. Nothing bad there.
The criminal photo
The photo above – the one of me doing something illegal – was taken at a protest against the banning of 'Into the River'. It was a silent reading of the book on a Wellington street, in front of the best bookstore in the world, Unity Books. About 20 or so of us stood there and read. That was all. We read.
Those of us who had pre-ban copies of 'Into the River' read that. I brought my copy of Grapes of Wrath to read, which was banned in 1939 in some parts of the States. (I tried to get a copy of 'Into the River' but I couldn't because, well, it's been banned.)
It was a silent reading because it would have been illegal to read 'Into the River' out loud. Did you get that? It's unlawful to read the book aloud! This is madness. It's like being told, "Don't you dare sing that song. It will turn people into heffalumps."
So we stood around and read silently and talked, and eventually we started taking pictures. I asked the woman next to me, who was reading a copy of 'Into the River,' if I could get a picture of me reading it. She didn't want any photographs of her, but she let me get a picture.
That was when the corrupt, immoral, and depraved thing happened. That was when she actually handed a copy of a book to me.
I held it just long enough to read a few lines and take the picture. Then I handed it back. I don't even know the woman who let me borrow it. I talked to her only briefly. I wouldn't be able to spot her in a lineup, and I hope to God that I'll never be asked to do so.
Let me pause for a moment here and point out that, at this moment, writing this, I am not certain that I won't be asked to identify her. That may sound like crazy talk. I mean really, would authorities' in New Zealand really ask me to identify that woman? Who knows? I'm not certain of anything anymore. A book has been banned. Suddenly it feels like all bets are off.
And here is something else. To be honest, I am more than a little bit uncomfortable with publishing this post and clarifying that it wasn't my copy. It makes me uneasy. What will happen? Anything? Will I be fined heavily for breaking the law? Will I be asked to identify the dangerous, criminal woman who shared her book with me? I don't know.
Do I really live in such a mad country that publishing a picture of me reading a borrowed, prize-winning book on the street of the capital makes me nervous?
Yes. I do.
Yes, I live in that place.
And that makes me terribly sad.