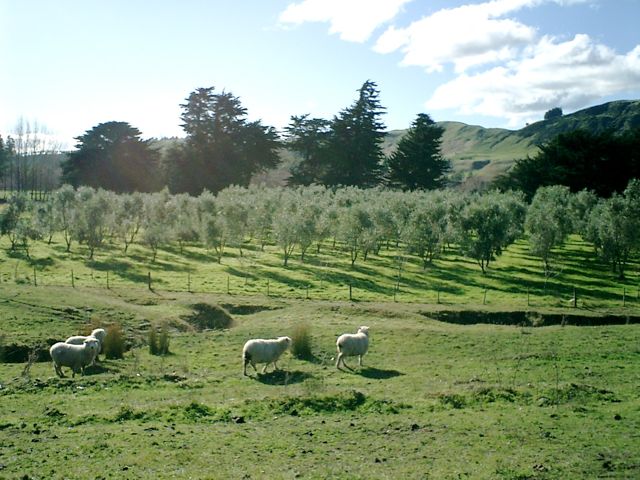 "There's a sheep down in your paddock," our neighbor Jim said over the phone. He'd been working along the fenceline when he saw the sheep. "It looks pretty sick," he said.
I immediately called Hamish. The sheep belong to him.
Hamish is the stock agent who leases our paddocks to graze his sheep and cattle. He's in his mid 60s, I'd say, and he's got a broad New Zealand accent and a gravelly voice. A man of few words, he's nevertheless friendly in a low-key, Kiwi farmer kind of way.
"Probably cast," he said, when I told him about the sheep. "Might just need propping back up, then she'll be right."
"Cast?" I said.
"Yiece." This word, I learned some time ago, is what many Kiwis say when they mean 'yes.' It rhymes with 'niece.'
Then Hamish mumbled, "cast sheep."
"Of course," I said, having absolutely no idea what he was talking about.
I figured that a 'cast sheep' could only mean one of two things. Either the animal was recovering from a broken leg, or it just got a part in a movie. Neither seemed entirely likely.
"Um, just what exactly is a cast sheep?" I asked.
"Can't get up."
"Oh?"
"Yiece."
"Why can't it get up?"
"She's cast."
It took some time until Hamish realized that he was actually speaking to a man who had somehow made it into adulthood without ever having come across a cast sheep before. Then he finally provided an explanation.
A cast sheep is a sheep that has laid down and can't get up because its center of gravity is off – sometimes because it's pregnant or simply because it has a full fleece. Once down, gasses start to build up in their abdomen and they can die in a matter of hours. If you get them back up on their feet, then they're fine.
"Could you prop her up?" Hamish asked. "It'd save me a trip over. If it doesn't work, I'll come by. You mind?"
Hamish knew I could have said no, since they're actually his sheep, not ours. But this is the country, and if there's one thing I've learned in the country it's that people help each other.
Besides, how often do you get the chance to prop up a cast sheep?
"Sure," I said. "But you have to tell me how."
He said I should straddle the sheep, with one leg on either side of it, and bend down.
It already sounded dodgy to me.
Then I had to pull the sheep up by the wool and hold it up while the circulation got back into its legs. After that, I could let go and, in Hamish's words, "she'd be right."
I was certain that Hamish was lying through his teeth. He just wanted to trick an ignorant city boy. He probably had a camera hidden in the shelterbelt. Soon there would be an image of me in a compromising position with a sheep on the front page of the Martinborough Star.
But Hamish assured me that it was all true and I agreed to 'give it a go,' as the Kiwis say. CJ wasn't home, so I was on my own.
There was one problem. I didn't want our neighbour Jim to see me standing astride a sheep without a clear explanation in advance, so I called him and told him what I was about to do.
He just laughed. "Now I've heard it all. That sheep's sick. Propping her up won't help."
Giving it a go
I found the sheep lying on her side in the paddock between the hayshed and the olive grove. Her back end was covered in poop and she didn't look well at all. I had serious doubts about Hamish's clever plan.
But I straddled that poor, sick sheep anyway.
I figured it would really hurt to be yanked up by your wool, so I tried to wrap my arms around her. I felt everywhere under her belly, but I couldn't get a good hold. There were no handles.
In the end I resorted to grabbing fistfuls of wool and pulling her up the way Hamish had said.
The sheep immediately pushed her legs down and tried to run forward. I held on tightly, leaning back and straddling her in such a way that if I'd been doing it in a public spot I would have been arrested.
Very quickly the sheep broke free and tried to run. After only a few steps, she fell down again.
I walked over and straddled the pathetic creature a second time, pulled her up by her wool, and held on again. I managed to hang on longer that time, but once more she broke free, ran, and fell.
It seemed pointless. I was just torturing the poor animal. But I decided to try one last time.
I straddled her and pulled her up again, and that time something strange happened. She didn't struggle or try to run. She stood perfectly still, as though she now understood I was trying to help.
I held on tight and waited. It was ridiculous. There I was, standing in a grassy paddock in New Zealand with a sick, poop-stained sheep between my legs. Oh, if my friends back in the States could only see me now! What a glamorous life I lead!
All of a sudden, I started laughing. Yes, by myself, there between the hayshed and the olive grove, as the afternoon sun beat down on my back, I stood alone, straddling a sheep, and laughing.
In the end I waited a good three or four minutes before I finally let go.
The sheep did not run. She did not fall. She stood perfectly still beneath me.
I swung my right leg over her and stepped away.
Then, she actually started to nibble at the grass. After a minute or so, she took one tentative step and stopped. She ate some more. I walked back to the fence and watched. She ate slowly. She took a couple more cautious steps, then started eating again.
Good as Gold
At that point Jim came up to the other side of the fence. "Look at that," he said in surprise. "She's up."
"Yes, look at that," I said proudly. "I did a little bit of laying on hands. I healed her."
Jim smiled. "So you'll be opening up your own church then?"
We watched the sheep for a while, and then she finally wandered off, looking perfectly fine.
Back in the house, I called Hamish again to report my success.
"You're practically a professional shepherd now," Hamish joked.
"That's right," I said. "From now on every time I come across a dead sheep, I'm going to prop it up and see if it walks."
Hamish laughed. "Yiece. You let me know how you get on with that." Then he said a phrase I've come to hear often here, and one that I especially like.
"Good as gold, mate. Thanks heaps."
__________
This blog post, in an edited form, has become the Prologue to my book 'Moon over Martinborough: How an American city boy became a Kiwi farmer', published by Random House New Zealand in June 2013.
Related links
Podcast
Click the 'play' button below to listen to 'Getting intimate with a cast sheep' online, or download the MP3 for this podcast and others over in the podcast library.
Wairarapa Lifestyle Magazine
'Getting intimate with a cast sheep' appeared in the Autumn 2011 issue of Wairarapa Lifestyle Magazine.
See other 'Moon' stories from Wairarapa Lifestyle Magazine.
You can find the magazine in the cafes and shops all over the Wairarapa. Check out the magazine's website.