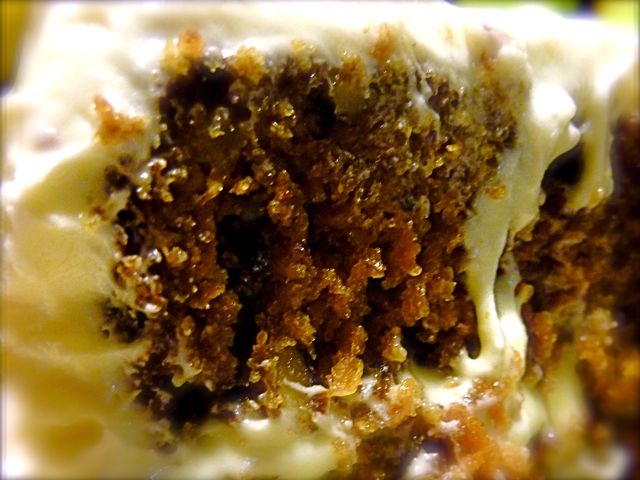 This is just one of the recipes that appears in the bestselling book, 'Moon Over Martinborough,' from Random House New Zealand.

"Why won't you share it?" I asked CJ. We were standing in the kitchen, looking at a carrot cake recipe written on the back of a long, white envelope.
"Because it's too special," he answered.
"But all the neighbors are asking for it."
"Too bad," CJ said. "If we share this recipe then everyone will make it, and it won't be special anymore. Besides, it's the only cake we know how to make! And we can't serve store bought ever again. The locals will shoot us."
It was true. The first time we'd invited our local friend Anna over for morning tea, she actually reprimanded us for not baking. "We don't serve store bought out here in the country," she said. It took us a moment before we realized she wasn't joking.
The recipe on the back of the long, white envelope CJ and I were looking at wasn't just any carrot cake recipe.
It was an unbelievably rich, two-layer carrot cake – moist to the point of impossibility, graced with just the right touch of cinnamon, and covered in snowdrifts of heavenly cream cheese frosting.
Like all good recipes, it has a story.
Chicago days
Years ago, when CJ and I were in our 20s and first dating in Chicago, CJ's friend Dave made this amazing carrot cake all the time. It was Dave's mother's recipe back in Iowa.
Every time CJ's circle of friends gathered together – at Thanksgiving, Christmas, Easter, and summer dinners – Dave brought his carrot cake. Years later, when CJ and I moved to Japan, CJ asked Dave for the recipe. With out hesitation Dave wrote it down, from memory, on the back of a nearby envelope.
Not long after that, Dave suddenly died of a heart attack. He was only 50 years old.
Global nomads
CJ and I wandered the globe together for years – from Yamagata to Tokyo to Wellington. Our worldly goods were scattered to the wind, and Dave's carrot cake recipe became lost in the sands of time. It was gone.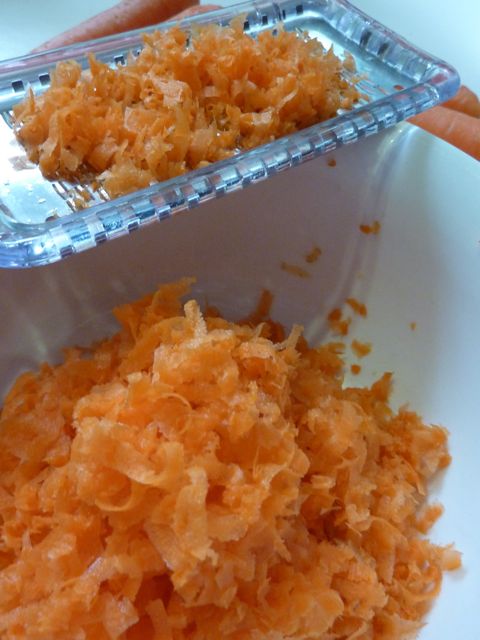 Then, after we moved out to Martinborough and learned that our neighbors here view store-bought baked goods with a level of disdain normally reserved for large toxic waste dumps, I asked my mom to send me an old, barely-used cookbook that I'd stashed away in her Michigan basement.
When the cookbook arrived, out fell that long, white envelope.
"Dave's carrot cake recipe!" I yelled out to CJ.
It was like something out of a time machine. CJ almost started crying – half out of love for Dave, and half, I'm sure, out of eagerness to sink this teeth into that cake again.
"We're saved!" he said. "It's so easy to make, even we can do it!"
The baking begins
Since I have celiac disease and have to stick to a gluten free diet, I experimented with converting the recipe. To my delight, I discovered that the carrots keep the cake so moist that this cake is just as amazing even when gluten free.
I immediately started baking a gluten free version of Dave's carrot cake like there was no tomorrow. For morning teas, for dinners, for barbeques. Everyone absolutely loved it.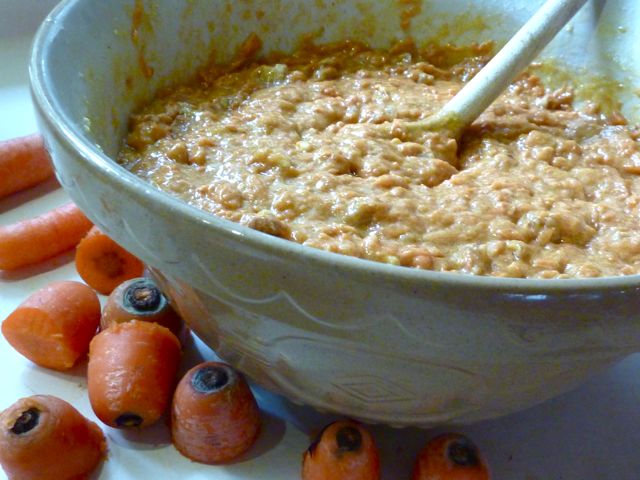 But then things got out of hand.
The more people who tasted it, the more people there were who desperately, even urgently, wanted the recipe. When I said no, people insisted. It was exhausting. They hounded me. They tugged at my sleeves like addicts begging for crack.
"Pleease," they said. "Pleease give us the recipe."
I tried reasoning with CJ. "Come on," I said. "Just let me share it with people. Dave would have shared it. After all, he shared it with you."
"Nope," CJ said. "Not sharing."
It was around then that our neighbors started ganging up on me.
Recipe warfare
When our neighbor Kiwi Bronwyn inevitably asked for the carrot cake recipe, she was a bit surprised when I explained that I couldn't give it to her. But she let it go.
Shortly after that, however, I asked our neighbor across the road, Aussie Bronwyn, for one of her recipes.
"I'm sorry," Aussie Bronwyn said with a wry smile. "I understand you won't give Kiwi Bronwyn your carrot cake recipe. When you give her that recipe, I'll give you mine."
I couldn't believe it. I'd been blacklisted. "That's not fair!" I whined. "It's CJ's fault! Punish him!"
Aussie Bronwyn was unmoved.
The third Bronwyn
A few weeks later, our friend Anna invited us over for dinner. I said we'd bring carrot cake for dessert. "Okay," she said. "As long as it's not store bought."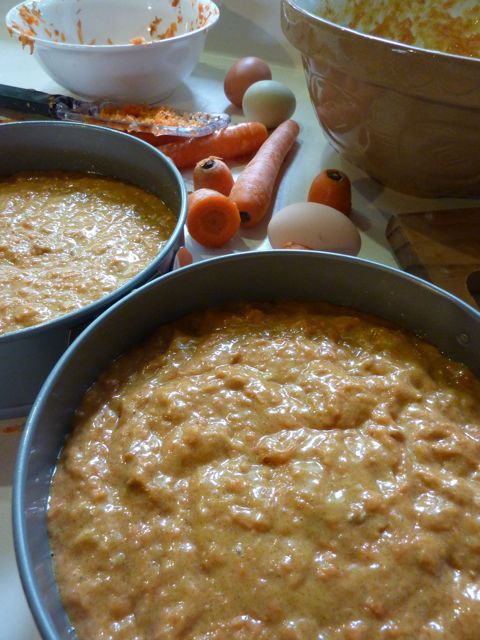 The night of the dinner everyone at Anna's raved about the cake.
"You've come a long way, boys," Anna said.
Then, the next day I received a surprise email. It was from a friend of Anna's, another woman named Bronwyn. This Bronwyn is a musician.
It turns out that Musician Bronwyn had stopped by Anna's for morning tea, and Anna had served some of the leftover carrot cake that CJ and I had left behind. You guessed it – Musician Bronwyn wanted the recipe.
The next time I saw Anna, she told me how upset Musician Bronwyn had been when I emailed back explaining that I couldn't share the recipe.
"This has got to stop." I told CJ. "It's completely out of control. I'm being bullied by a band of belligerent Bronwyns!"
Still, CJ refused to share the recipe.
Then, at long last, something pushed him over the edge.
A real chef
For a bit of cultural education, CJ and I went to Hamilton to see the national agricultural show, Fieldays. While there we went to see New Zealand chef and TV presenter, Al Brown, do a cooking demonstration.
Up on stage, Al started talking about giving away recipes.
"I don't understand why people are so miserly when it comes to recipes. Why don't people give them away? Recipes are like love letters from people you care about. They were meant to be shared."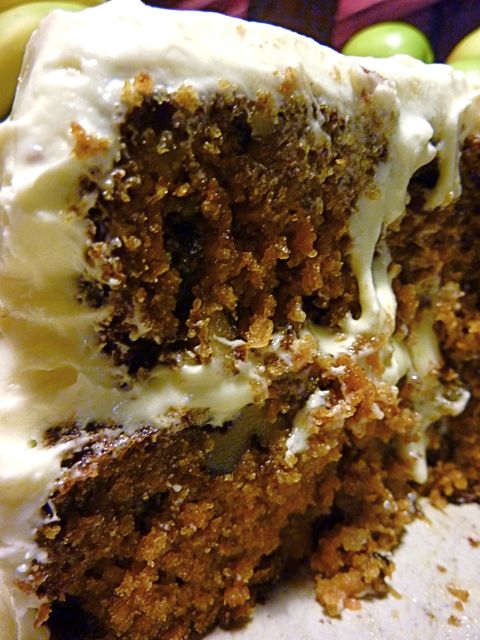 I nudged CJ in the side so hard that he nearly fell off his chair.
When Al's cooking demonstration was over, CJ said, "Okay, okay. Share the damn recipe. I give in."
Finally.
So now I'm sharing Dave's carrot cake recipe not only with the neighbors, but with the entire world.
And it's not a moment too soon. Any longer and I'm afraid CJ and I would have ended up with an angry mob of carrot cake loving locals at our door, yelling and brandishing pitchforks.
How about you? Do you have any recipe you refuse to share?
Dave's carrot cake
Cake
2 cups flour (For gluten free, replace flour with gluten free baking mix. I use Bakels.)
2 cups sugar
2 tsp cinnamon
2 tsp baking soda
2 tsp baking powder
1 tsp salt
1 & 1/2 cups cooking oil (I use canola.)
4 eggs
3 cups carrots, finely grated
1 cup chopped walnuts (optional)
Sift dry ingredients together. Add oil, stirring constantly.
Add remaining ingredients and mix.
Place in two round springform pans. Bake at 350 °F / 175 °C for 45 minutes.
Frosting
1 package cream cheese (8 oz / 250 g)
1/2 cup butter
2 tsp vanilla
1 pound of icing sugar! (16 0z = 453 g)
Blend.